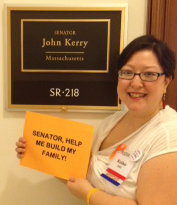 When a disease affects 7.3 million people in the United States, it's a public health crisis. In the United Kingdom, the estimates are that infertility affects 1 in 7 couples; in Canada, the number is as high as 1 in 6. According to the World Health Organization, they estimate that "1 in 4 ever-married women of reproductive age in most developing countries are infertile because of primary or secondary infertility" (source).
Infertility is a global public health crisis, and yet, it faces some of the most direct challenges in equal access to care compared to most other diseases on a scale this great.
Thus, it is vital that we come together as a global patient community to demand equal access to care, treatment, research, and cultural compassion for our disease.
There are many ways to be an infertility advocate in ways that suit your comfort level and capitalize on your skills and talents. Here are posts that focus on how you too can become your own best infertility advocate.
We all have the capacity to become empowered agents working for change!
Speak Up & Be Heard Must-Reads:
These are some of my greatest hits with regard to infertility and women's health advocacy.
Belly Full of Fire Series
A five-part series from 2010 about how you – yes you! – can become an advocate for infertility sensitive and family-building friendly legislation.
RESOLVE Advocacy Day Posts
Each year, RESOLVE: The National Infertility Association hosts an Advocacy Day on Capitol Hill in Washington, D.C. Advocates – people just like you and me – gather from around the country to speak with their legislators about advocacy issues important to the American infertility community. I have been a proud participant of Advocacy Day since 2011.