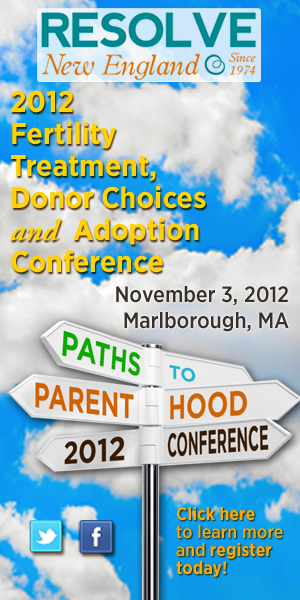 As many of you know, RESOLVE New England is an organization near and dear to my heart. They were there for Larry and I from practically day one of our infertility journey and continue to be there for us now in this new stage of our journey.
For the past three years, I have attended their Annual Fertility Treatment, Donor Choices & Adoption Conference. It's been interesting to see how my role is shifted: first as wide-eyed newly diagnosed attendee to Board member and volunteer to staff member last year. I'm headed back again this Saturday, November 3rd for my fourth year in a row. And while yes, I'm working the event: I'd be back there even if I wasn't. That's how important and how much of an impact this Conference has had on me.
Why I Went in 2009 –
Within days of finding out I had premature ovarian failure and that my family building options were indeed limited, I found the RNE website and save the date information about their Annual Conference. By the time November rolled around, Larry and I had become members of the organization and were registered for the Conference. I devoured the info on their old website, eagerly waiting for the Conference to finally get here.
It's really hard to put into words how much of a positive impact that RNE Conference had on me. Dr. Ali Domar was the keynote speaker that year and I remember so much of her keynote address left me just speechless. "For many of you, this is the first crisis you've ever faced in your marriage." She talked about the amount of stress we might be feeling at that moment, the onslaught of relentless emotional guilt, shame and defeat. "Look around you," she said. "Everyone in this room understands."
In that moment, 200+ attendees all became connected in our moment of pain and grief – and more importantly, our resolve to get through this. It was an incredibly empowering day. I won't lie – it was exhausting, too. We felt like we had a bit of information overload but in the days and weeks following the conference, little gems of wisdom would pop up in conversation between us, and thankfully, we had the vocabulary to talk about these things intelligently because we had gone to the RNE Conference.
- And Why I Go Back Every Year.
To say that RNE means a lot to me is an understatement. I go back because I want to be a part of that connective energy that takes place for 8 hours on a Saturday in the middle of Massachusetts. To meet other people, shake their hand, flash them a smile and simply say: "Hey. You're not alone. RNE can help. Here's how." Because that's what we do as an organization. Our peer support groups are the bedrock of that face-to-face support and in many ways, the Annual Conference feels like one big support group where everyone there is looking out for each other. And you watch that energy happening in the halls, as couples begin to open up to other couples sitting at their table. You start to watch the shame melt away to be replaced by supportive encouragement.
It's not just that we're all friends here; we've all been through it too. Every single staff member, every single Board member – we get it because RNE was there for us too, once. We all do what we can for this organization and ultimately, its members and supporters because it's our way to give back to this community.
I wish we didn't have to, in that, I wish every day another person wasn't diagnosed with infertility in some way. But until we find some magical cure-all for every infertility diagnosis there is, I will keep working with this community. I will continue to support RNE. I will continue to be at their Annual Conference.
Register today.
Online registration is available until this Thursday, Nov. 1st at 5pm. If you're in the New England area and you've lost power because of the hurricane? No worries: you can register by text or email and complete your registration in person on Saturday morning at the Conference.
Also, RNE has received generous funding from the TJX Foundation which allows them to provide full and partial scholarships to anyone who can't afford registration costs. The first year I went, Larry was still laid off. We used a full scholarship to attend AND pay for our membership to RNE, with no regrets and only deep gratitude. Click here to register with a full or partial scholarship for the Conference.
I'll be there bright and early this Saturday, November 3rd in Marlborough, Mass. If you're in the New England region and looking for education and support on your own path to parenthood, I hope you'll join me.